By: Raine
Episode 3! Hoorah! I was expecting way more hilarity than I got, but surprisingly, I'm not disappointed. Suzy delivered some deadpan cuteness (her best dish) and we got some insight into Yoon-jae, who I was pulling for! (I'm not going to mention my love for Hottie McJail Bait.) This episode was still full of a lot of plot set-up, but Da-ran and Kyung-big (Kyung-joon in Yoon-jae's body) certainly provide enough character growth and body-swapping antics to entertain me for hours on end!
This episode scooched up a percentage point to 8.4% (AGB Nielsen National), probably because of the appearance of cute little miss Suzy.
"Big" makes me happy.
"Big" features Gong Yoo, Lee Min-jung, Shin Won-ho and Suzy
Episode 3 recap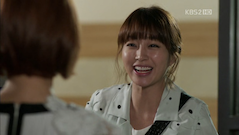 Post Dr. Poo poo attack (i.e. a hug and confession from Dr. Lee Se-young), Kyung-big assumes Yoon-jae's a cheatin' bastard. Da-ran, who arrived post-confession, ignorantly thanks Se-young for bringing Yoon-jae's things. In an attempt to get rid of Da-ran so she and Yoon-jae can be alone, Se-young suggests that they all have tea and cookies together - and guess who should go and pick up the cookies!
Guess who also AGREES to pick up the cookies with a smile on her face, effectively leaving Dr. Poo poo alone with her prey?
Ding, ding, ding! Da-ran the Innocent. Or Ignorant. Or Foolish.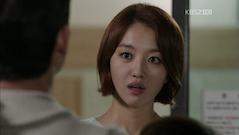 Kyung-big isn't about to let Da-ran fall into Se-young's trap and refuses to let her go. They want to be ALONE, thank you very much.
Heehee. Way to throw that back in her face, Kyung-big!
Anyway, Da-ran is horrified by Kyung-big's behavior towards Yoon-jae's "Friend" and Se-young looked pretty miffed herself. (Dare I say she has a "poo poo" face on?) Despite Da-ran's protests, Kyung-big tells Se-young to drink tea and eat cookies alone. He and his fiance are "busy". Then he hauls Da-ran into his arms bridal style and carries her inside, kickin' and screamin'. A shocked Dr. Poo poo is left behind.
Rawr.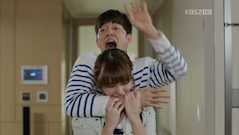 Inside, Da-ran demands to know why he did that and to calm her down, Kyung-big restrains her from behind. Da-ran sinks her teeth into his arm and he hollers in pain. They call each other crazy and he defends himself, declaring that he rescued "this bastard" from a horrible situation. Da-ran fixates on the word bastard while Kyung-big continues on.
Yoon-jae is double-timing her, Kyung-big explains. Se-young hugged "Yoon-jae" and declared her loved for him.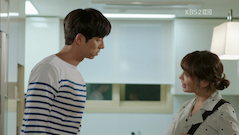 Instead of the anger we'd all expect, she smiles broadly and pinches his cheeks. "You're just worried for your teacher!"
Neither the condescension or her thick head improve Kyung-big's temper as he stares at her, mouth agape and unable to believe what he's hearing. Da-ran explains that love and skinship between a man and woman isn't as weird as he thinks.
Wait...what? What planet did you fall from? I'm American and we get pretty handsy in general, but the skinship that Dr. Poo poo was pulling on an engaged man was NOT COOL AT ALL!
Kyung-big ruffles when she treats him like a child but focuses on the big pictures: Gil Teacher isn't thinking straight 'cause she loves the guy. But Yoon-jae ain't as good as she thinks he is.
Da-ran, however, isn't paying attention because she's fretting over the bite mark. Kyung-big is incredulous that she likes him that much when she doesn't know if he likes her in return.
Solution: Have Kyung-big say what he said before using Yoon-jae's lips. Reluctantly, Kyung-big agrees, takes Da-ran's face in his hands and says softly, "I...don't love you. He could've said this. I don't know what he was going to say and neither do you. Since I'm a kid, I don't know either. If I get stuck in the middle, I get bitten and it hurts. I hate pain so I won't interfere anymore".
Nice throwing in that little issue you have with being called "childish".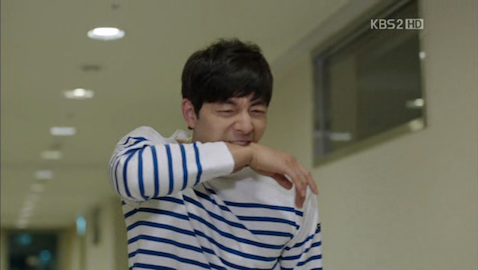 Kyung-big grabs the bag she packed for him and storms out, mumbling, "Good person? Are you kidding?" He bites Yoon-jae's arm.
Aw, puppy.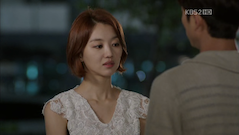 Outside, Se-young is waiting for Kyung-big and wants to talk. She was surprised by Da-ran's presence and supposed she surprised "Yoon-jae" by her seemingly random declaration of love. It seemed to Se-young that he was hesitating about the marriage, which is why she gave him "that thing" in the first place.
Why you....*shakes fist*

Kyung-big has no idea what this "thing" is, but does recall Se-young feeling him up in the hospital and mentioning a "thing". He asks her if it's special, which angers her, and she decides they need to talk at their "usual spot".
The "usual spot" eh? The writers are trying to make us doubt you, Yoon-jae, but I have faith in you!