by: Raine

---
How much do I love the growth in the people and the relationships in this show? Well, save for Jung-ae. I feel like they make her cranky for the sake of making her cranky. But I really love watching all the couples and friends and family members interact.
But I am getting antsy for singing. They won't deprive me, will they? They let Jo Jung-seok sing in King 2 Hearts...for a hot minute. But STILL.
AGB Nielsen Nationwide had this episode coming in at 27.3%.
"Lee Soon-sin is the Best" is directed Yoon Seong-sik by and written by Jeong Yoo-kyeong and features IU, Jo Jung-suk, Go Doo-shim and Lee Mi-sook.
Episode 14 recap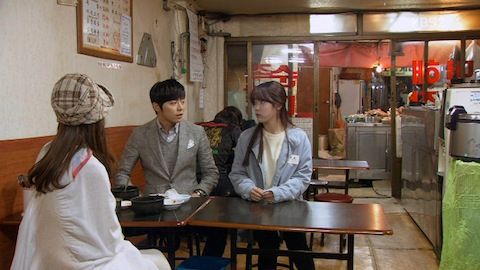 We left off with an oddly quiet episode ending of Mi-ryeong, Joon-ho and Soon-shin staring at each other with only minor tensions flowing in the emotional undercurrent. Such a whacked out ending. But whatever. Soon-shin returns and she immediately gets scolded by Joon-ho for eating sundaeguk instead of what's on her prescribed diet plan. She gives him some cheek.
Mi-ryeong watches them with a knowing smile: fighting will lead to Joon-ho/Soon-shin babies.
Okay, so I'm getting a little ahead of myself since this is episode 14....
Gil-ja tries to stop Jung-ae from drinking on an empty stomach, but finally gives up. Depressed people are stubborn. Gil-ja advises that Jung-ae raise Soon-shin as before; it doesn't matter who her parents are and Mi-ryeong isn't trying to take her back. Chang-hoon is dead.
All valid points, but a little sugar coating would help, Gil-ja ssi. You are just slapping her in the face by saying it like that. Then again, Jung-ae needs a slap in the face.
Jung-ae mutters that the apple doesn't fall far from the tree. Is she jealous? Worried about losing her kid?
Gil-ja gets a phone order for chicken and Bok-man comes in just in time for Jung-ae to stumble out of the shop, shirking off any offers for help.
On her way home, she sees Joon-ho dropping Soon-shin off, which ticks her off. But then she is floored to see Mi-ryeong come out of the backseat to return Soon-shin's scarf. The two smile together and you can practically see the jealousy and rage boiling behind Gil-ja's eyes.
Joon-ho drives away and Soon-shin spots her fuming mother. She is horrified to see her and she should be: Jung-ae marches over and drags her into the house. EEK!
In the car, Joon-ho asks Mi-ryeong why she changed her mind about using Soon-shin. He realizes that she's serious about training Soon-shin. Mi-ryeong finds Soon-shin cute and pretty, which makes him scoff. He doesn't think the actress is acting like herself. Right back at you, she says.
Back to Jung-ae dragging Soon-shin into the house. She throws her on the floor and Soon-shin apologizes. Then she explains that she didn't know what to say because she knew Jung-ae didn't want her to act. But she REALLY wants to. Even her new teacher, Song Mi-ryeong, thinks she has potential.
She gets smacked across the face and Jung-ae looks murderous. How could Soon-shin do this do her? She tells Soon-shin they are no longer mother and daughter. She is kicking her out.
WHAT?! *Cursing* *CURSING* Seriously you crazy selfish wench, is that what you're going to do to your kid? You raised the girl for 25 years and you're just gonna drop her 'cause you have some personal issues? You're going to break up a family. Seriously woman, go rot in hell. I've reached the end of my ability to sympathize with you.
Soon-shin begs her mother, but Jung-ae runs upstairs, packs a bag and then goes down to throw it at Soon-shin's feet. Along the way she gathers a very shocked, Hye-shin, Yoo-shin, Woo-joo and Granny. They are all appalled by the scene and can't stop it from happening. Jung-ae declares Soon-shin is no longer her daughter and literally shoves her out of the house.
The only beautiful thing about this scene is that Granny, Yoo-shin and Woo-joo, the three people who were meanest to Soon-shin, are on her side, heartbroken and wanting nothing more than for Jung-ae to stop being a crazy wench.