by: Raine

---
Episode 10 dropped a percentage point to 9.6%. I can't really blame viewers. This show is suffering from severe multiple personality disorder.

So this website is called "Raine's Dichotomy". I think my emotions this episode really embody that. Brain versus heart. I was dreading writing this recap because I really didn't think I knew what to write besides exactly what happened. My brain was completely appalled. My heart was moved.
Special thanks to Hitomiakiko from Akiko's Morning Coffee for doing some spot translation for me!
"Fashion King" features Yoo Ah-in, Shin Se-kyung and Lee Je-hoon.
Episode 11 recap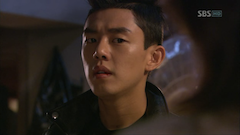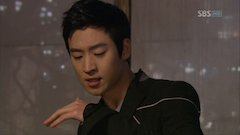 It's another show down. Selfish man versus selfish man.
Jae-hyuk throws the dirty towel at Young-gul and that starts a verbal and a fist fight.
Omigosh, I have to say it. They have busted lips and look very kissable. But the lips are bloody. But the lips...
The chaebol demands to know if Young-gul had fun stealing his girlfriend. Then, he asks Ga-young, for the last time mind you, if she wants to come with him.
Ga-young stares at Young-gul and looks like she wants to throw up some ramyun and soju. When she doesn't answer immediately, Young-gul starts to freak out. Finally, she asks Jae-hyuk when he wants her to start. The answer: tomorrow.
Young-gul is as shocked as I am. Or maybe I'm not shocked. Okay, I'm not. As much as I wished for it, we all knew she was going to pick one of them. I'm guessing she chose Jae-hyuk because she was still feeling high on the injustice of Young-gul's decision to partner up with Dragon Jo.
Anyway, Jae-hyuk wants her to leave now, but when she hesitates, Young-gul grabs her things, chucks them outside onto the pavement and stalks into his office. Ga-young is pretty much horrified and heartbroken by this turn of events but has no time to think about it as Jae-hyuk grabs her hand and drags her outside.
Inside his office, Yoo Ah-in makes me want to cry with the extreme anguish he is able to express. I say Yoo Ah-in because he totally outacts this script. Young-gul deserves it. *wipes tear* Gah, Yoo Ah-in, I should not be wasting tears on this show!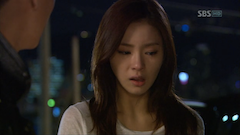 Jae-hyuk realizes Ga-young probably has no where to go and suggests his place. Before he can toss his prize into the car, Young-gul grabs her hand.
YAY! Wait, why am I into this show? WHY?! My heart was beating so hard during this scene and when Young-gul popped out again I literally said, "yay". As you can tell my brain and my heart think two completely different things.
So he grabs her hand and shocks the hell out of all three of them.
‪
‬Young-gul: Ga-young! Where do you think you're going?!
He's not in control of himself; he is driven by anguish.
‪
‬Young-gul: Are you really leaving?
Ga-young: *Avoids his gaze*
Young-gul: You're not going to see me ever again? Don't you know that I hate him?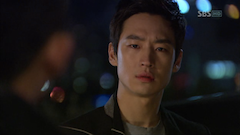 He yanks her behind him and she guiltily meets Jae-hyuk's eye. Young-gul orders her to go inside and she meekly obeys, much to Jae-hyuk's utter dismay. Both men have tears in their eyes.
Why am I moved by the tears of complete douches? Is it 'cause they're hot? Or is it 'cause the actors are too good for this show? HELP ME!!! And why do I LOVE that Young-gul grabbed her so possessively? *RAWR* But then I HATE that she so blindly obeyed. *Double Rawr* What happened to that spine she grew? Must've been made of straw. Or straws; the bendy kind.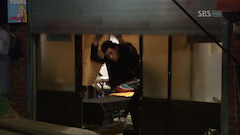 Alone, Young-gul demands to know what Jae-hyuk can do for Ga-young. She's a vice president at Young Young Apparel while she doesn't even qualify to apply for a job at J Fashion. Jae-hyuk promises to give her the same when the time is right. With a sneer, Young-gul comments that a president should think of his employee and that it must not be like that at J Fashion.
Ouch. That statement packs a double whammy and Jae-hyuk reels from realization and frustration. First, he knows that Young-gul is right. Ga-young would be the lowest of the low at J Fashion, which is a serious demotion from her current position. Second, the president at J Fashion is the oh-so-compassionate Daddy Jae-hyuk who really doesn't treat his son well.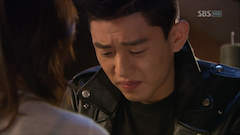 Young-gul collects her things and goes inside to face her. He forces the motionless woman onto a stool and physically turns her head to make her look at him. With infinite care, he questions her. Was she really going to leave? Where was she going to go? She can't just leave with nowhere to go. When he left his aunt's house, he had a lot of trouble, so she shouldn't ever think of doing it again or he'll kick her out himself.
She's crying and I'm falling for his heartfelt words. How did Yoo Ah-in make me completely change my opinion of this character in five minutes? FIVE MINUTES. That's the power of this show and this is why people keep watching although they don't know why. Individual scenes are really powerful and Yoo Ah-in kills it. Shin Se-kyung's big watery eyes kill me. Lee Je-hoon's manly mad face gets me. Yu-ri...well, Yoo Ah-in does enough work for them both.
Young-gul puts his hand on Ga-young's knees and promises that he won't misunderstand her so she shouldn't misunderstand him either. He retreats into his office and a ghost of a smile crosses her lips.
Choi An-na is giving a presentation and Jae-hyuk is really preoccupied. Then, he rudely leaves to go brood in his office.
I've never seen a character brood so much. Not that the Je-hoon lover in me minds. When he sets his jaw like that, *drool*. He broods and I just focus on the hot, because the reason the character is brooding is actually pathetic. He promises to marry another woman and then sets his eye on Ga-young who is obviously not interested. So I set my eye on him and ignore the ridiculousness of his character.
Jae-hyuk frets and worries over Ga-young's reaction when Young-gul yanked her behind him. He's also probably worrying about what to do about the fact that he told her it was the last time he was offering to "save" her.