by: Raine

---
Episode 12 dropped 0.4% to 9.4%.
It's the same stuff over and over. It's saving grace is some mystical power that catches the attention and the heart and invests you. Perhaps it's the hot men. Perhaps it's the need to figure this hot mess of a drama out. I'm not sure.
"Fashion King" features Yoo Ah-in, Shin Se-kyung and Lee Je-hoon.
Episode 13 recap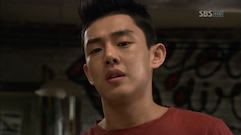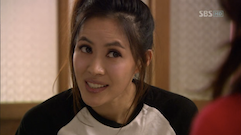 Young-gul is agonizing in bed over Ga-young's departure and then rises to check Ga-young's sleeping area, but she isn't there.
Why? Because she's asking Bong Sook for a place to stay. Bong Sook is more than happy to have her and get rid of the good-for-nothing roommate. But she also wants to know the gossip? She she leave for Jae-hyuk's company because she and Young-gul fought or because of Jae-hyuk?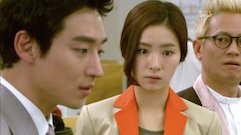 Over lunch, Jae-hyuk and father discuss a commercial when Assistant Kim interrupts them with the news that Ga-young decided to work for them. Jae-hyuk smiles adorably at this, happier than a bully stealing lunch money
Director Kim, with some freshly touched up roots, is supervising the work room when Jae-hyuk saunters in to see Ga-young. He masks his true intentions and his exuberant mood with a quick perusal of the other designers' work. He quickly meets Ga-young's gaze before leaving. Kim stares after him with an understandable look of surprise.
In his office, Jae-hyuk receives research on Il-gook from Assistant Kim. Then he threatens the poor assistant to keep silent and not tell Mama Jae-hyuk anything or he'll lose his job.
So this is a "grown-up" way of going behind your mother's back? Oi.
Then in a very satisfying scene, Assistant Kim hands Madam Dragon her ass on a plate. How? Jae-hyuk wants to buy out the Dragon's share, but only for a million, what she put into the company. When she declines because she has a new investor, Kim pulls out pictures of Il-gook and says, "We warned you Young-gul couldn't be trusted".
He tells her that it's in her best interest to sell; J Fashion has YGM's top designer. But the Dragon won't go uncompensated - her line will be featured by J Fashion.
Needless-to-say, the Dragon is FURIOUS, blowing smoke from her nostrils and ready to crispy fry Kim. Instead, she calls Miss Go for some water and agrees on the condition that Jae-hyuk hire Jung-ah.
Yay, more unreasonable conflict to come...whoopee.
(Check those hideous things out.)
Just by the way, the Dragon's platforms are disgusting. They're not even shoes. Cinder blocks with lanyard laces would look better than that offensive pair of footwear. Can you imagine her walking around on cinder blocks? Heehee.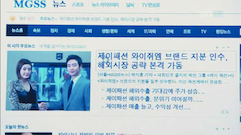 So there's a public signing between Jae-hyuk and Dragon. Jae-hyuk is all smirks. I think that the Dragon is a contract slut - she signs willy nilly with any hot man who will make her money.
Jae-hyuk calls Young-gul to his office. Young-gul has already read the news. The chaebol wants Young-gul to come to J Fashion for efficiency. Ga-young is already here. If Young-gul doesn't want to join J Fashion's YGM, then Jae-hyuk will give him $5 million for Ga-young.
Young-gul signs angrily and on his way out, Jae-hyuk asks what YGM stands for: Yellow Great Mountain.
Nope, the "Y" and "G" do not stand for Young-gul and Ga-young. Idiot.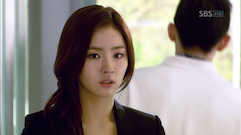 As Young-gul leaves, he runs into Ga-young who calls him "President". He says he's no longer her president and breezes by. She looks heartbroken.
Why do I pity them? WHY? They totally brought this on themselves. Changing sides, not talking, letting their pride and jealousy guide their actions. They do this every single flippin' episode. How is this going to work out?
WAIT! I figured out why I pity them! There is a wicked sad clarinet solo wailing in the OST. Clarinet always gets me RIGHT. THERE. *brushes tear away*
J Fashion's people are all over Young-gul's factory questioning Young-gul's staff about YGM. In the office, Young-gul listens to the head seamstress answer questions. She says that Young-gul took care of everything.
At Bong-sook's place, Bong Sook tells Ga-young about what happened. She pities Young-gul because he tried everything, even cooperated with the Dragon, but was screwed over in the end by J Fashion. His employee and his contract with America were stolen. But Young-gul is Dongdaemoon's roly poly: he can survive anything.
Gross nickname. Gross.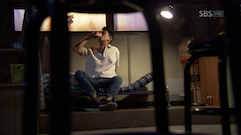 That night, Ga-young can't sleep and she heads towards Young Young Apparel. Turns out Young-gul can't sleep either and he keeps seeing Ga-young all over the place.
Hallucinations are side-effects of signing too many contracts in a short period of time. They're also side effects of betrayal, being an asshole and miscommunication.
Finally, Young-gul leaves to go find some mental help - no, he doesn't, I just wish he did. But I really pity him and my heart ached for him. Yoo Ah-in, you are a master. I pity a loathsome character.
So Young-gul is gone when Ga-young shows up.
RAWR! Stop being such a wishy washy little...GRR. Tell him exactly why you left and how you feel. Oh, and don't go work for the other guy. Go find another job if you're so ridiculously gifted at stealing Michael Jackson jacket designs.