By: Raine

---
How much am I loving the rapport between all the growing relationships? There is an ease about this show, even with the secrets lurking about, that makes me want to watch it over and over and really look forward to each Saturday.
AGB Nielsen Nationwide had this episode coming in at 28.0%. Highest rating thus far! Whoo, rock on Lee Soon-shin!
"Lee Soon-sin is the Best" is directed Yoon Seong-sik by and written by Jeong Yoo-kyeong and features IU, Jo Jung-suk, Go Doo-shim and Lee Mi-sook.
Episode 12 recap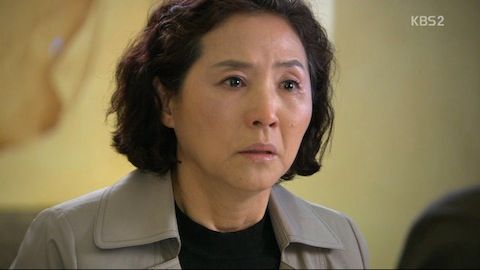 Gil-ja finally discovers the secret that we've all known pretty much since day 1: Kyung-sook/Mi-ryeong is Soon-shin's biological mother.
FINALLY! I cannot tell you how annoying this whole this has been for me.
Anyway, Bok-man ushers Gil-ja out for a chat, leaving his miffed wife behind. It's kind of a douche-y move. She thinks you're cheating buddy. You should clear that up right quick.
Jung-ae is absolutely incredulous and can't believe that Bok-man and Chang-hoon would trick her. How could they not tell her that Soon-shin is Mi-ryeong's daughter? When Bok-man verbally confirms her suspicions again, it strikes her cold. And then she asks the question we've all been wondering: is Soon-shin Chang-hoon's child?
This sends Bok-man into a flurry of explanation. She's not. Chang-hoon would never do that to you. He loved you. Jung-ae is skeptical. How could her husband bring his first love's baby to her and then lie to her for all these years? Bok-man frantically reassures her that there must've been a good reason and Soon-shin is NOT Chang-hoon's biological daughter.
If you ask me, I don't think Soon-shin is. I don't know why. It's a hunch. But I guess you didn't ask me, huh?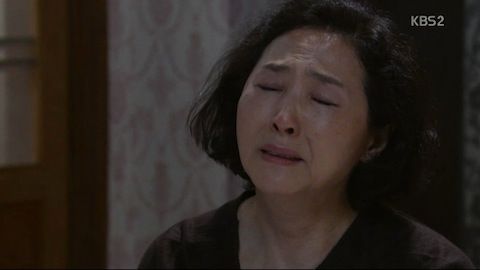 Jung-ae lies in bed and tries to absorb the truths that Bok-man accidentally flung at her. She tells herself that her husband can't have cheated on her.
In the morning, Soon-shin asks Hye-shin were there mother is and Jung-ae is sleeping. She stayed up all night. Of course, poor lifelong scapegoat Soon-shin assumes that it's her fault for continuing to pursue acting. She goes to talk to Jung-ae, but she pretends to be asleep. She can't face Soon-shin yet.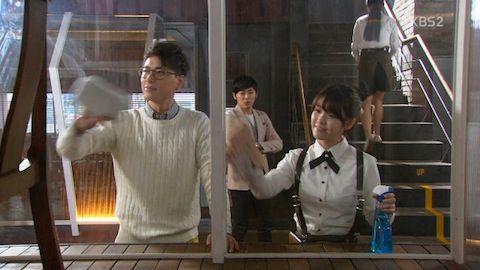 Soon-shin heads to work, but is feeling pretty down about her mother. Our trusty Young-hoon notices and comes to help her clean a window. He notes that she looks really worried and wonders if it's because she's working and studying acting. Soon-shin admits that her mother doesn't want to become an actress. He advises to give Jung-ae some time. If Soon-shin really loves acting, Jung-ae will understand eventually, so she shouldn't worry. With a sweet smile, Soon-shin thanks him, which is, of course, the moment our hero enters just in time to feel jealous.
What are you whispering about? Joon-ho asks and Young-hoon says he doesn't have to know. Joon-ho guesses that it was about Soon-shin's mother and scoffs that everyone knows. With a smirk, Soon-shin repeats Young-hoon's words: you don't have to know. Then she walks away, leaving him curious as hell.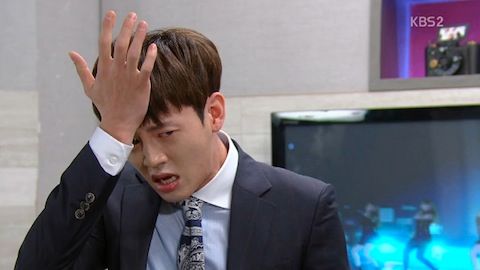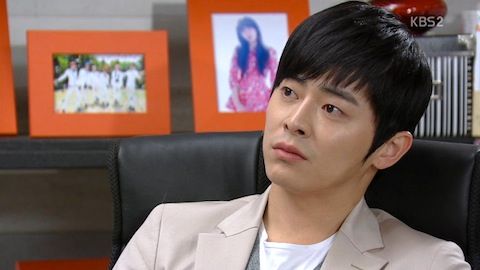 He heads up to his office and literally internet searches, "How to convince parents who oppose..." HAHAHA! So cute! The internets have the answer for everything, don't they? In-sung comes in and asks why Joon-ho looks so worried so Joon-ho asks: What should I do if parents oppose something?
He's already opposed his parents once and gotten kicked out, so he's probably really unsure of how to go about this.
Of course, In-sung thinks that Joon-ho is trying to woo a woman and her parents hate him. Well, in a way...sort of...
Anywho!
Here are In-sung's suggestions:
Buy the parents a present. Then, if they have warmed up to him, he should go visit their house. Then, get down on his knees. (Do I have to?) Yes! and smash your head against the ground and say, "Give you daughter to me". In a confident voice.
To illustrate suggestion number three, In-sung smashes his forehead against the desk, emphasizing that the noise is the key to convincing the parents that one can live without the woman. BWHAHAHA!
Joon-ho decides not to listen to him. Hehe. Smart boy...er...man?
Then we're off to sexy baker Jin-wook who is, SURPRISE, looking in the paper for places to live. His assistant comes to tell him to find a nicer place than a dorm this time and wonders why Jin-wook is saving money like crazy.
Oooh, why ARE you saving money like crazy? Huh? Huh? For a ring? HUH?!
No, he wants something more boring: to build his own bakery. Mr. Assistant suggests to sleep in the kitchen with a sack of flour for a pillow. They laugh together, but Jin-wook's laughter quickly melts into a glare. Mr. Assistant quickly suggests something smarter: go see a realtor.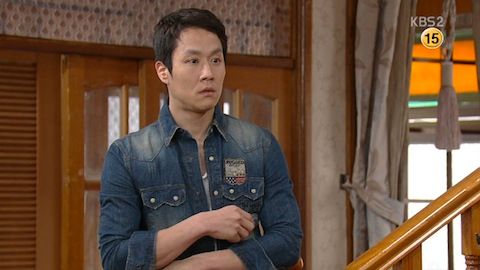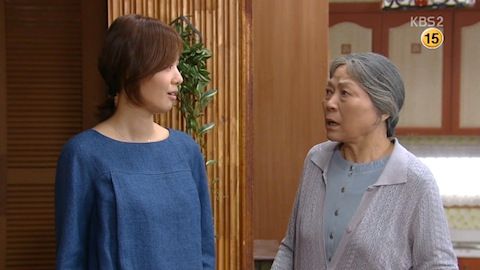 The realtor who is working to sell Granny's room is having a hard time selling the badly lit sub-basement to a woman. And then who should walk in but uri sexy baker who hears that the room is really cheap. He wants to rent it, but the realtor says that he can't because he ain't a girl. Jin-wook says he can protect against thieves and other such things. The realtor isn't sure, but he asks for a chance to convince him.
The realtor takes him to the property and he loves the garden. When they go in, Hye-shin is there to greet them. He gasps in surprise when he sees her and runs away when Granny comes in. They are super confused. In the street, he's flipping his lid. Woo-joo passes by him without a greeting.
Granny thinks he's weird for running away. Also, she told the realtor NO MEN. Okay, now I KNOW he's gonna live there. Anyway, Granny knows she's seen him somewhere and Hye-shin tells her that he's the baker. Granny likes him, he's a nice guy.