By: Raine

---
We finally have a few annoying issues starting to come to a head. I want to see this business with Jung-ae explode so we can just get it over with. I'm sick of her crabby moods. But I love watching Joon-ho and Soon-shin grow close. It gives me the warm fuzzies.
AGB Nielsen Nationwide had this episode coming in at 25.9%. It's still first though!
"Lee Soon-sin is the Best" is directed Yoon Seong-sik by and written by Jeong Yoo-kyeong and features IU, Jo Jung-suk, Go Doo-shim and Lee Mi-sook.
Episode 13 recap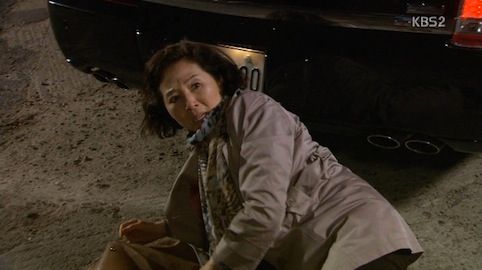 We left off with Jung-ae at Song Mi-ryeong's door. Mi-ryeong is happily preparing wine and snacks while Soon-shin is trying to comprehend the world of trouble and hurt that will befall if she's caught.
Luckily, Hwang shows up to take care of it for her. I knew this meeting would subverted. I KNEW IT! They've done it too many times. Modus operandi. Come on, show. Find a new trick.
Anyway, Hwang is suspicious of Jung-ae and asks who she is and why she's ringing a doorbell so late in the night. Instead of identifying herself, Jung-ae merely says that she has to meet Mi-ryeong. Hwang says "no" and physically moves her from the gate. When Jung-ae insists, stepping closer to the gate, and Hwang, he grabs her and shoves her onto the ground.
?!!!!! WHA?! Okay, Hwang, I know I'm not a Jung-ae fan, but that was douche-y. Hwang...meet Raine's FISTS.
Hwang threatens to calls the police and brushes his jacket off while Jung-ae holds her hand that she hurt in the fall.
Inside, Soon-shin stands immobile in front of the video intercom. Hwang comes in an says he sent a strange woman away. I don't think Soon-shin saw the altercation, but she is worried about why mom was there. She quickly begs her leave and runs after Jung-ae, leaving Mi-ryeong surprised and, dare I say, a little hurt.
I hope the miscommunication between them ends soon. Soon-shin thinks that Jung-ae is angry because of the acting and she has no idea that it's because the acting is tied to Mi-ryeong, her biological mother. But it's too early in this fifty-something episode show to hope for that, huh?
Soon-shin catches up to Jung-ae who lies that she was just walking around the neighborhood. She won't even give Soon-shin the time of day when she asks to talk.
Nice parenting. I know you're suffering, but you NEED to parent. I know how difficult this situation is. Death throws you out of whack and then the cheating...but this is not cool.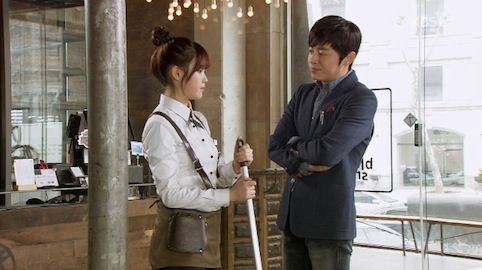 At work, Soon-shin wonders aloud if her mother discovered everything, which is how a smiling Joon-ho finds her. He notices how down she looks, but she brushes him off. So he launches into some pretty darn good news for an acting trainee: intensive audition training sessions. Of course, this requires late nights, which Soon-shin refuses. She needs to be home early for a while. Joon-ho shrewdly guesses that it's about her mother and so she agrees to do it, unwilling to open up to him.
He goes upstairs and orders In-sung to buy presents to please parents: ginseng extract. This has In-sung excited that Joon-ho is finally meeting his woman's parents. Joon-ho kicks him out, but In-sung doesn't leave before reminding him to get down on his knees and fist-pumping a "fighting" for his romantically hopeless boss.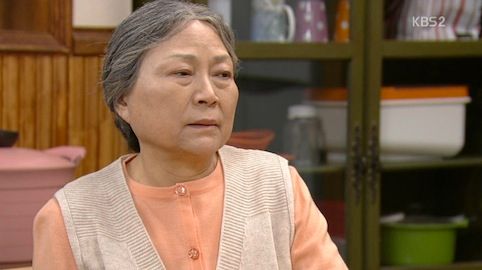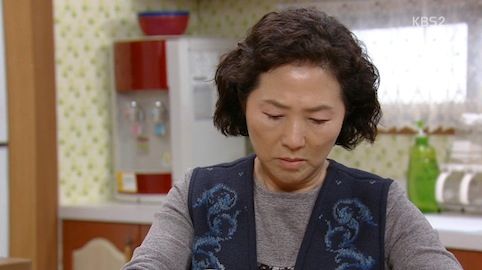 Jung-ae is sorting bean sprouts with a blank expression. Granny comes in to say that women don't want to rent their semi-basement. Jung-ae isn't paying attention and mutters a two-word reply. Granny sighs that she wouldn't have to rent the room if Chang-hoon was alive. Also, Jung-ae was really lucky to have had Chang-hoon. He was a great husband who never lied. Jung-ae snaps and tells her to stop talking about a dead person.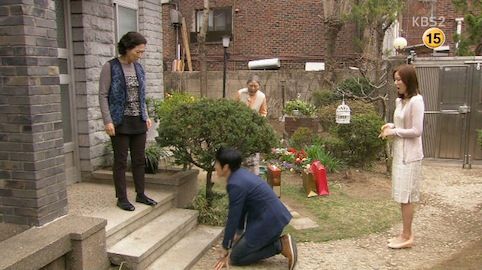 Granny heads out to garden when Joon-ho shows up to kowtow to Jung-ae.
Oh no, sweetie, you have terrible timing. But you wouldn't be you if you didn't, I suppose.
He greets Granny and introduces himself. He wants to talk to Granny and Jung-ae to ask permission. She says they don't need to go inside and immediately starts in on the questions: Parents? Siblings? Happy family? Age? Zodiac sign?
He finally tells her he doesn't want to marry Soon-shin, which confuses the hell out of Granny. Then Hye-shin and Jung-ae come out and I'm biting my nails.
Joon-ho begs for her to give him one more chance, begs for her to trust him, but she has "no" written all over her face and in her body language. She walks away from him and he stops her by the arm. She throws him off and he begs again, this time on his knees.
In-sung, you got your wish, but it's not going over well. Jung-ae becomes even less sympathetic than before. Wait, was she even the least bit sympathetic before? In any case, she raises him and tells him to leave or she would take this lying down.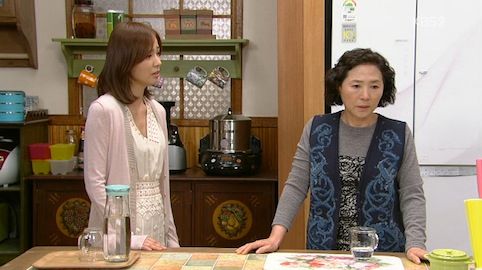 Then Granny comes in with the broom: you want to date but not marry? Get out! He gets beat out of the yard by Granny. Hye-shin runs out after him to apologize and to promise to work on Jung-ae. But...he should leave for now. Then she points out some broom twigs in his hair. Hehehe. Nice touch.
Hye-shin confronts her mother about how harshly she treated Joon-ho. He has a good reputation. Hye-shin met him personally and points out that he even came to the house for Jung-ae's permission. This contract isn't just for fun.
But Jung-ae won't listen. She says Hye-shin doesn't know anything and should stop encouraging Soon-shin or she'll cut Hye-shin off. When Hye-shin asks why she is so sensitive, Jung-ae snaps that shes not an emotionless person. Hye-shin points out that she's normally understanding, but htat only makes it worse. Jung-ae thinks her kids are neglecting her, like their dad. She's not going to live like that anymore.
I admit, I agree with her being angry at Chang-hoon. This is a pretty huge lie. But Hye-shin has been a pretty good daughter (save neglecting to tell her about the divorce) and she doesn't deserve this.
Granny comes in to ask for water and Jung-ae tells her to do it herself and leaves. Hye-shin quickly pours it for her.
I totally winced. Jeeeeez woman.
In her room, Jung-ae throws both pictures of her husband in the trash and then starts to pack.
Open your mouth you idiot, foolish woman. Rely on people. This is why tragedy breaks people apart, because they clam up and become time bombs. At least her being depressed allows for us to have a pretty, melancholy cello solo in the OST!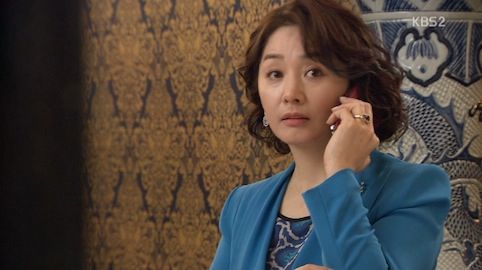 Dong-hyuk, Soo-jung and Mi-ryeong are eating dinner together. Soo-jung is babbling about Yi-jung's acting and Mi-ryeong brushes off the compliments and kiss-assy remarks. She gets a call and leaves the room.
With his wife gone, Dong-hyuk thanks Mi-ryeong. He heard Yi-jung skipped class. Mi-ryeong assures him that the girl will be quitting soon. The girl learned a little of what hardship is, but won't really understand it as Mi-ryeong and Dong-hyuk do; they had to start from the bottom and struggle. Dong-hyuk invites her to play golf with him and his wife that weekend and Mi-ryeong is surprised by the offer. They chat and laugh amicably, which Soo-jung finds a bit bizarre. (She's peeking into the room during her call.)