by: Raine

---
Stuff is happening! There is still too much brooding and moping, but stuff is actually happening. HOORAY! Joon-ho is learning a lot the hard way, but it's good for him. And there are a lot of truths flying around creating havoc and making things veeeeery interesting.
AGB Nielson Nationwide had this episode coming in at 24.6%.
"Lee Soon-sin is the Best" is directed Yoon Seong-sik by and written by Jeong Yoo-kyeong and features IU, Jo Jung-suk, Go Doo-shim and Lee Mi-sook.
Episode 21 recap
Joon-ho finds out that Soon-shin now knows about the bet and he runs after her.
Meanwhile, Soon-shin is packing up all of her acting materials and Yoo-shin tells her that she is disappointed. She thought Soon-shin would actually do something with her life this time; she enjoyed acting the most.
It sounds harsh, but Yoo-shin did acknowledge her acting talent at the dinner table and she must be wondering why Soon-shin is giving up something she has talent in. Well, not REALLY wondering. I mean, look at Jung-ae's behavior.
Soon-shin merely says that she's always like this, giving up. Yoo-shin points out that Joon-ho, who supported her, will be really disappointed. And then he phones Soon-shin from outside her gates. He breathlessly orders her to come out; he needs to tell her something. But she refuses and hangs up on him. She heads to bed and ignores his subsequent calls.
Poor guy. I know he deserves it, but he's such a cute little dolt that I feel so badly for him. He was helping her earnestly to become an actress, but it still doesn't change the facts: there was a bet and it required using Soon-shin.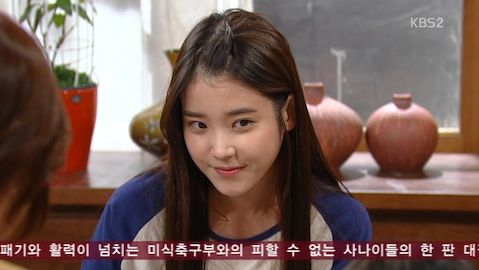 It's mealtime and the family is still a little weirded out by Soon-shin quitting acting. Even little Woo-joo wonders where her strange, music video behavior has gone and mimics her silly giggle. Hehe. It's so cute. Yoo-shin reminds Woo-joo that Soon-shin is no longer doing the video.
But Soon-shin is a good aunt and obliges her niece by pretending to be overly feminine and picky about her food. It makes the girl laugh and Granny shush her crankily. Yoo-shin is glad she doesn't have to see that "creepy" behavior anymore, but we all know that she's sad that Soon-shin gave up this much-loved opportunity. Hye-shin voices these thoughts aloud and Granny says that Soon-shin would give up. She never does anything for long.
I THINK Jung-ae is looking a bit guilty as Granny waxes on about how ridiculous it is for Soon-shin to actually accomplish anything.
Ah, the Granny we all know is back. Better than the moping.
Soon-shin promises Granny to be good in the future...although I don't know what that means. Does being good mean Soon-shin feels miserable and belittled and stifled all the time? That doesn't seem like being good to me.
Soon-shin joins her mother in cleaning up the kitchen and promises to get a new job to make her mom happy. She, while smiling, asks her mom to the bathhouse. She's trying so hard to win her mother back and it breaks my heart. She shouldn't have to win Jung-ae back. She did nothing wrong. Jung-ae, at least, has enough of a conscience to look guilty while her youngest daughter struggles to seem happy.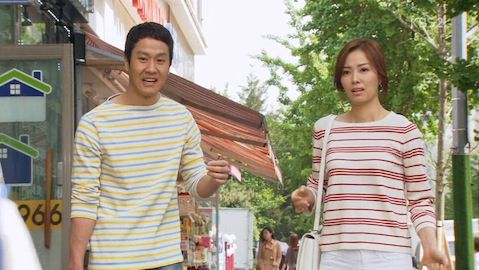 Hye-shin and sexy baker Jin-wook have an accidental run-in at the grocery store and get mistaken for a married couple. In their embarrassment and fervent denial, they knock a bunch of oranges on the floor. The clumsiest romance ever. Hehe.
Outside, Jin-wook tries to help Hye-shin carry the groceries and she says it's okay. They go back and forth until an angry Woo-joo swoops in, snatches the contested bag from their hands and zooms away. Hye-shin follows her with embarrassment.
Hehe I love Woo-joo. That little girl is also a very fine actress.
At his bakery, Jin-wook is making some dough and picturing Hye-shin's lovely smile in the center of it.
Okay, that was just weird, but I get the point.
Jin-wook doesn't get what's wrong with him, although deep down I think he knows exactly what it is. His assistant comes over and asks if he's trying to make a new bread because the dough has been shaped into a heart. Hehe. Jin-wook denies it and smushes the dough heart into dough nothingness. Then he demands some water to, y'know, cool down. His dough is smiling at him...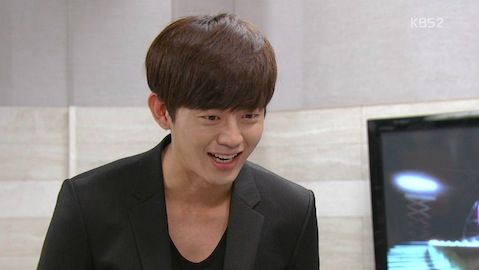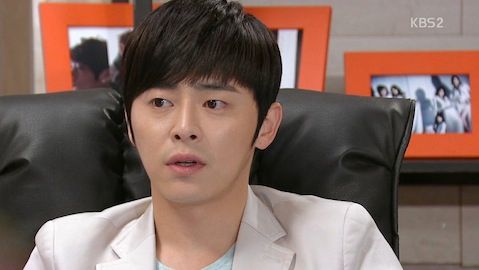 In-sung brings Joon-ho Soon-shin's profile pictures and her original audition video. He wants to throw it away and is ecstatic when Joon-ho gives the go ahead...which he rescinds in less than five seconds. In-sung has a mini-fit about how Joon-ho is always changing his mind and demands, IN BANMAL, if Joon-ho is on his period...before tacking on the respectful "yo". Hehehehe. He wonders why his boss is so fickle these days. Is there girlfriend trouble? Joon-ho sends him away and peruses the profile. Then he pops the flashdrive in to take a look at her camera test.
In it Soon-shin earnestly promises to practice hard to win viewers hearts. Then it shows her going through various exercises. Then performing her monologue for the audition Mi-ryeong sabotaged. It's about being deceived and it pierces Joon-ho to the core.