by: Raine
---
This episode had a lot of heart and showed some growth all around in characters, plot development and in how much I enjoyed it.

AGB Nielsen Nationwide had this episode coming in at 28.4%.

"Lee Soon-sin is the Best" is directed Yoon Seong-sik by and written by Jeong Yoo-kyeong and features IU, Jo Jung-suk, Go Doo-shim and Lee Mi-sook.
Episode 24 recap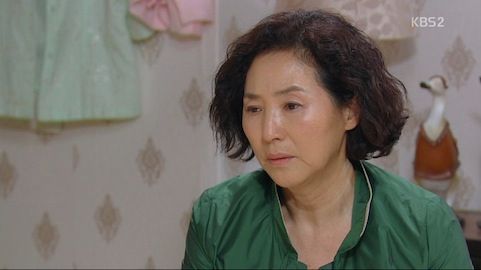 We left off with Mi-ryeong having a fit. She's decided to "take her daughter back", as though Soon-shin is a possession.
Granny is lying in bed, still reeling from her cat fight. Jung-ae joins her and Granny laments that Mi-ryeong hasn't changed one bit from her youth: spiteful and rude. Granny assumes that Mi-ryeong still hates her for not letting her marry Chang-hoon. Jung-ae, now nice again, says that Mi-ryeong deserves pity. They should all just pretend nothing happened; if she doesn't, then she gets really upset. Besides Soon-shin is the one next to her and she wants her to be happy.
Then what happens if Soon-shin finds out? Iz the question of the hour...and of the past 24 hours of drama.
Hye-shin is pissed at Mi-ryeong, but doesn't have the time to express it because Soon-shin comes in.
At breakfast, everyone is quiet and it unnerves Yoo-shin and Soon-shin, the two sisters who don't know what's going on. Yoo-shin resorts to picking on Soon-shin to bring the atmosphere back to normal: what are you going to do now? Do you have plans? Soon-shin mumbles something about taking a civil service exam and Yoo-shin warns her that it's difficult.
Little Woo-joo still can't believe that Soon-shin isn't going to continue acting - she liked it. Soon-shin hushes her, but Granny leaves the table anyway, depressed.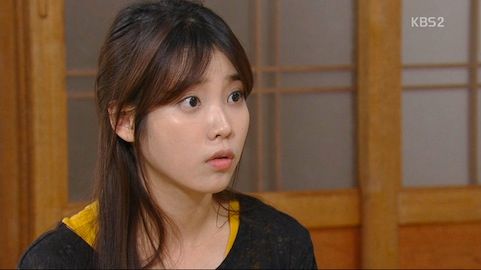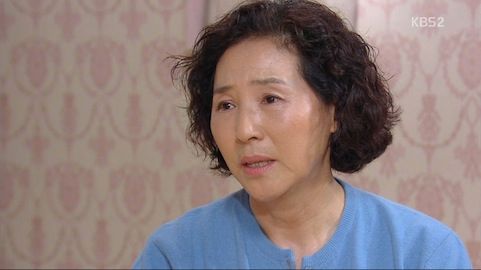 Then Jung-ae takes Soon-shin into her room for a chat and tells her : Do what you want. Go back to acting.
YES!
Jung-ae tells her not to worry about her and that she was too harsh on Soon-shin. She was weak and shaken. Soon-shin is baffled by this and Jung-ae reminds her: just remember that you're my maknae, my daughter.
Mi-ryeong paces her deck and I get annoyed. She's annoying me almost as much as Jung-ae did before. Anyway, she decides to talk to Joon-ho about setting up a press conference; before the reporter leaks the news, she's going to confess. She's going to take Soon-shin back.
You selfish bitch.
Hwang isn't happy with this turn of events, but Mi-ryeong says she needs to fight in order not to be humiliated.
Ah, so Soon-shin is a humiliation, eh? Nice...not.
Hwang reminds her about about Chang-hoon and her part in the incident. She flips out and says it had nothing to do with her.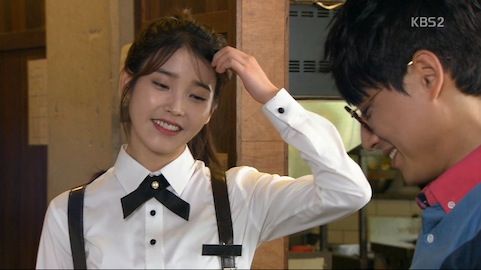 On Soon-shin's last day at work, she is seemingly cheerful and offers to take out the trash for a co-worker; however, her mother's words run through her head.
Then Mr. Waiter accuses her of wanting to stay at the restaurant. Or else why would she work so hard? Young-hoon steps in and Mr. Waiter further begs her to stay. It's so cute. He's grown attached to the person he used to make faces at.
Anywho, Young-hoon shuts him up by handing Mr. Waiter the trashbag Soon-shin is holding. She teases him that he's better at controlling his employees, but he laments that he's not good enough: she's still quitting after he asked her not to.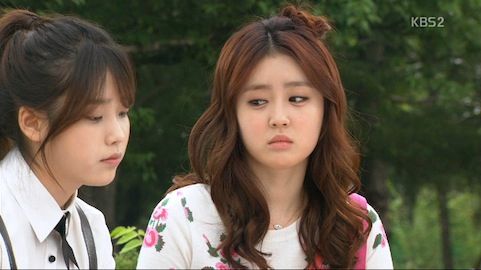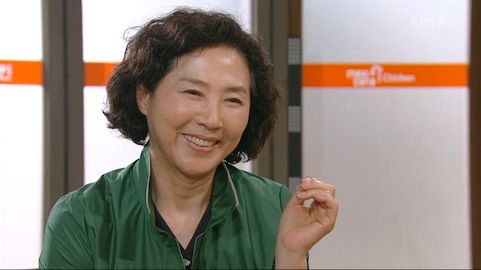 Chan-mi shows up for a visit to ask about Soon-shin; she heard the rumors that she quit acting and the restaurant. Chan-mi babbles about understanding that Soon-shin wouldn't want to see Joon-ho (Soon-shin frowns) and then invites Soon-shin to visit her at work tomorrow for hangout time and lunch.
Jung-ae tells chicken lady Gil-ja about Granny's " encounter " with Mi-ryeong. Then she asks if Gil-ja still has that job opening - she needs something to do and to make some money. Gil-ja is ecstatic.
Sexy baker Jin-wook is studying for his equivalencies at work and the English is difficult for him. Hye-shin and Woo-joo come in for some bread and Jin-wook tries out his English on Woo-joo, sounding like a total doofus. When Hye-shin heads outside to take a call, Woo-joo makes fun of his rudimentary English skills. He wonders how good she is and then she tells him, "I really don't like you. Get away from my mom". It's cute that the little actress' English is pretty stilted as well.
Jin-wook doesn't understand her and she calls him "stupid". He understands that, and then tricks her by saying there's something on her shirt. When she looks down to check it out, he jokes that she bowed to him. She flips out and calls him an idiot and stupid in English. He's having a ball...she's not. I think it's funny. Hye-shin comes in to hear Woo-joo yelling and scolds her, but Jin-wook says it's okay.
When they leave, the assistant teases him for staring after her. Jin-wook thinks she's perfect an angel. Assistant reminds him that they can't be interested in three things: fists, women and weed.
Hrm...was he in jail for drugs?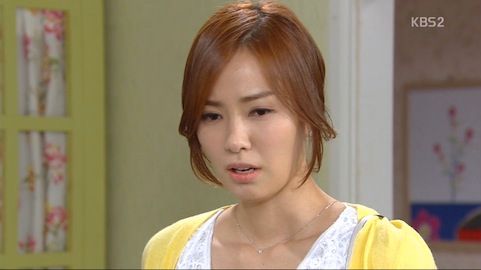 Woo-joo goes home and beats up the bear that Jin-wook gave her. Hye-shin scolds her again for behaving badly and Woo-joo stalks out, feeling angry and misunderstood.
I feel bad for the kid. Divorce AND moving to a different country are two difficult things to deal with as a child. She gets to do both...