by: Raine

---
Ladies and gents, the show has truly found it's stride. I had a great time watching AND recapping and after watching I didn't want to type this thing up in favor of just jumping into episode 4...but I resisted!
AGB Nielson Nationwide had this episode coming in at 21.0%, but still strong and each episode gets progressively stronger. This one had some serious comedic and acting gems in it.
"Lee Soon-sin is the Best" is directed Yoon Seong-sik by and written by Jeong Yoo-kyeong and features IU, Jo Jung-suk, Go Doo-shim and Lee Mi-sook.
Episode 3 recap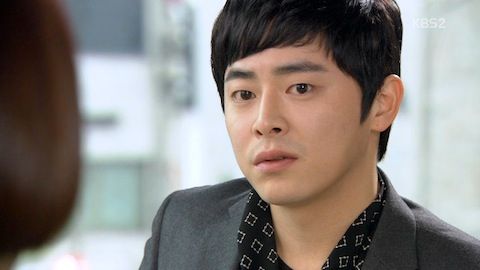 So ex-girlfriend Choi Yeon-ah has tasked confident (and bumbling) Shin Joon-ho with turning a nobody into a star. If he does, then Yeon-ah will sign with his management company.
That nobody, is the Lee Soon-shin huddling on the street reeling from major blow. She's sobbing into the phone to her friend Chan-mi about being scammed as Yeon-ah and Joon-ho watch her from the cafe above.
Joon-ho doesn't have the time to accept Yeon-ah's challenge nor is he worried about her stealing Song Mi-ryeong from his agency. Besides, he doesn't really need Yeon-ah - he just said it for friendship's sake.
She smiles indulgently at him and he wonders if he he's funny. He's not the Joon-ho from before. She coolly takes her leave to go film.
She just loves to mess with him and crush his poor ego. Mean girl.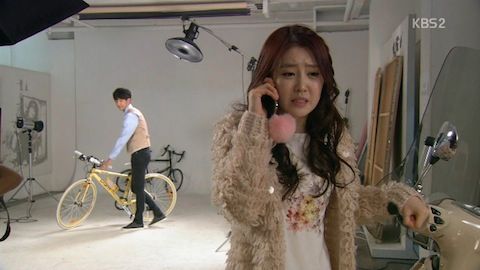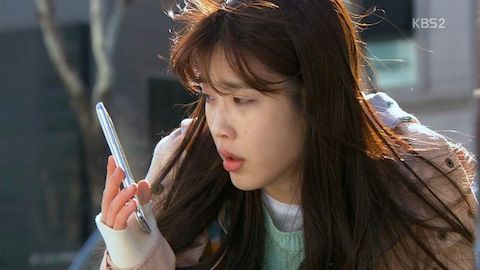 On the phone, Chan-mi scolds Soon-shin for her stupidity and although I don't think Chan-mi is much of a friend, she is correct in this. Anyway, Chan-mi wants to meet and talk it over, but Soon-shin tells her friend to keep it secret and hangs up on her.
Mr. Waiter comes out and sees her crying. He hands her her bag, tsks at her and walks away to hang up a "help wanted" poster for part timers.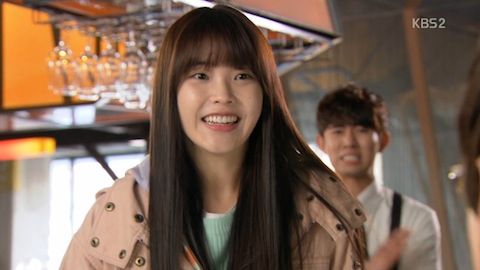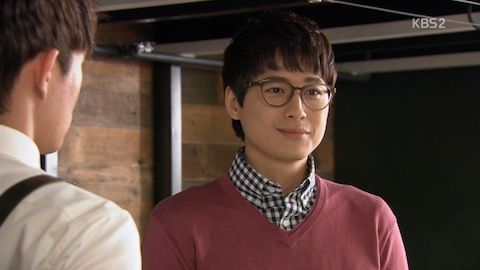 Soon-shin immediately approaches Young-hoon about a position and Mr. Waiter is waving a frantic "No WAY!" behind her back to his boss. But Young-hoon is loving Mr. Waiter's pain and agrees to hire her. Before she leaves, she asks Young-hoon to help her catch President Fake if he comes by again.
Of course, Young-hoon thinks she's chasing President Fake for love and gives her advice: don't go after married men. She decides not to correct his assumption and leaves, allowing Mr. Waiter to beg Young-hoon not to hire her. But Young-hoon mutters with his indelible smile that she doesn't look married.
You're weird, dude...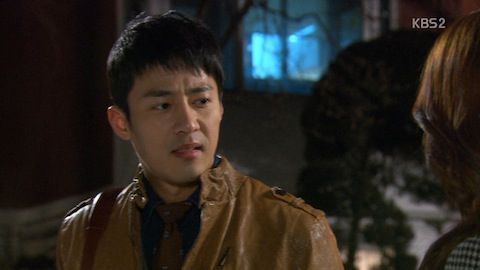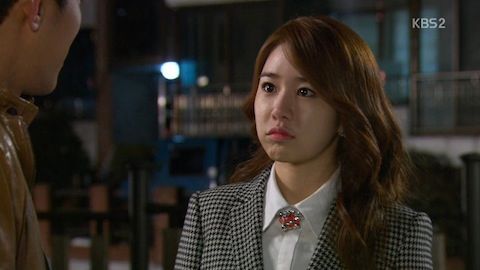 Yoo-shin is walking home and spots stodgy Chan-woo walking home. She immediately starts in on him, commenting that he sure does get off early for starting a new job. Don't dermatologists just do beauty treatments nowadays?
Wow, she seriously can't be nice. I think she might be genetically incapable of it.
Anyway, he wonders if she'll ever visit a dermatology clinic and she says that she won't. She doesn't understand women who spend money on dermatology. She likes women to look natural; and not having wrinkles when they age is gross.
Hrm, I'd love to prevent wrinkles...ask my sister. I bet Yoo-shin just thinks she's too pretty for treatment, which she is, but still...
He agrees with her with a sigh.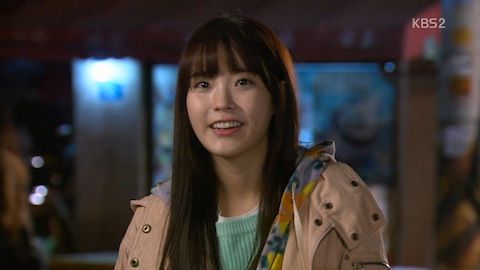 When Soon-shin appears, he brightens. She does as well, but then deflates to see Yoo-shin who calls her on it. Chan-woo avoids a fight by asking about Soon-shin's new career as an actress. But it doesn't work. Yoo-shin points out that Soon-shin is just a trainee. Again, Chan-woo softens the mood by offering to buy her a congratulatory dinner. They half-heartedly invite Yoo-shin who declines in favor of going to yoga. She thinks people in Korea eat too much.
Um....okay? I think she just loves to hear herself talk.
Anyway, Soon-shin tries to get her to come along, but Yoo-shin thankfully leaves and the two head to dinner. She takes him to a cheap place (looks like she's munching on mandu) and he promises her something better once he gets his first paycheck. Then he offers her some coupons for his hospital saying she has to take care of her skin as an actress.
Cue choking on the mandu. He thinks she chokes because of the cost and babbles about their neighborhood having a start.
So kindly hearted, but oh-so-wrong.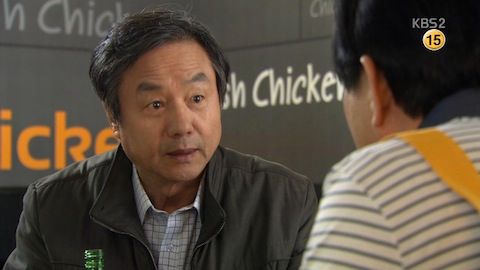 Chang-hoon drinks with Park Bok-man, Chan-woo's father. Bok-man wonders if Chang-hoon will really let Soon-shin become an actress. He wants to congratulate her but something feels off.
But Chang-hoon isn't really paying attention. Instead he shares the fact that he saw "Kyeong-sook" better known was Song Mi-ryeong and then tosses back a shot of soju.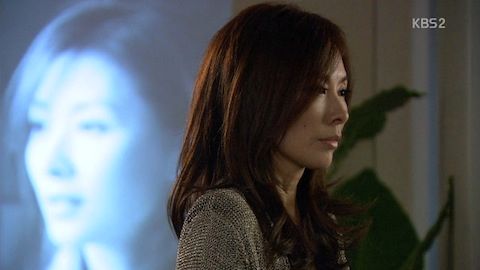 "Kyeong-sook" is drinking some hard liquor on the rocks while thinking about him as well. We see more of their conversation. They talked about her just moving to the neighborhood and then parted awkwardly.
Her phone rings and it's a drunk Hwang calling to say he's cooled down. But she hasn't. She warns him not to call her again and hangs up.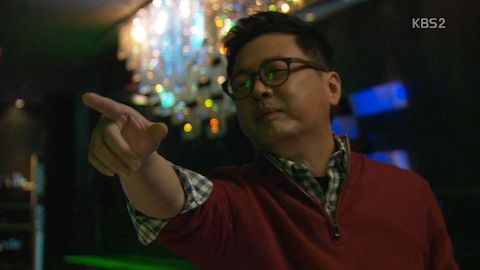 A drunk Hwang stumbles from the room he was drinking in and drunkenly crashes into Reporter Park, one of the reporters who had covered Song Mi-ryeong's Timeless event. in episode 1. Reporter Park asks about Song Mi-ryeong and Hwang starts cursing, swearing he'll end her and stumbles away, yabbering about he made her who she is.