by: Raine

---
Epic cuteness mixed with the same ol' same ol'. I'm not even curious to see how Mi-ryeong is going to be even MORE selfish next episode. I'm only curious about the relationships, which have been on a serious back burner for way too long.
AGB Nielsen Nationwide had this episode coming in at 23.2%.
"Lee Soon-sin is the Best" is directed Yoon Seong-sik by and written by Jeong Yoo-kyeong and features IU, Jo Jung-suk, Go Doo-shim and Lee Mi-sook.
Episode 31 recap
Soon-shin goes to Mi-ryeong and agrees to do what Mi-ryeong wants. In return, Mi-ryeong should clean up the rumors that are affecting Soon-shin's family: Jung-ae prevented Soon-shin from acting. Mi-ryeong doesn't see any need to clear up the rumors; they are the truth. She is disappointed that Soon-shin came to her because of that, but agrees to think about it.
As Soon-shin leaves a frantic Joon-ho drives up to Mi-ryeong's place. He intercepts her and she calmly tells him that she's agreed to do whatever Mi-ryeong wants. It's better for her to hurt than for her family to hurt. Joon-ho is not happy to hear it.
Hwang reminds Mi-ryeong that Soon-shin came in order to protect her family, not because she likes her. Mi-ryeong just mutters some nonsense about the acting world sucking Soon-shin in. She'll make Soon-shin sleek and fabulous and show her family who is a better parent.
Really? You want to use a human to prove your coolness?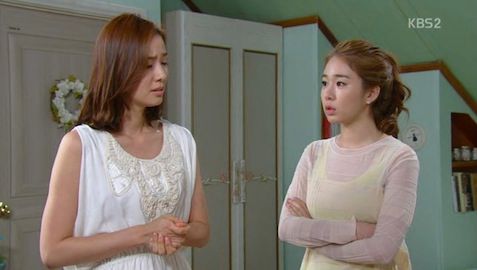 Soon-shin tells her mother that she wants to get back into acting and to do that she'll go to Mi-ryeong. Jung-ae steels herself and tells her to go for it with a smile plastered on her face. Soon-shin is saddened, but says nothing.
Jung-ae tells Hye-shin and Yoo-shin about Soon-shin learning acting from Mi-ryeong. They should keep it secret from Granny, too. The two sisters are incredulous and Jung-ae begs them to understand how hard it is for Soon-shin. They head upstairs to confront Soon-shin - why did she change her mind? Yoo-shin thinks it's because you can't deny blood. Hye-shin feels bad for their mother.
Soon-shin explains that she doesn't want them to be hurt because of her. Yoo-shin agrees that it's a good idea. At least, her words do. Her face expresses regret and disappointment.
At Chan-woo's breakfast table, Chan-mi notes that he's super happy and guesses he has a girlfriend. Gil-ja snaps that they broke up and changes the subject quickly. Then they make mother/son date for the next day: he has something to tell her.
Of course, Gil-ja heads to work, cranky as all hell. To make herself feel better she invites Yi-jung and her mother to the mother/son lunch.
Does anyone in this show take a hint? This is utterly ridiculous.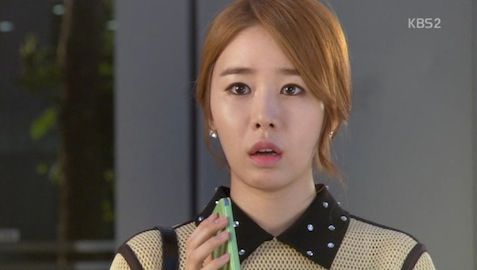 Chan-woo invites Yoo-shin out on a date and tells her to meet him at the bus stop. When she gets there, he calls to double check that she's arrive and then hangs up.
And then we see it: a banner of her and Chan-woo on the side of a bus asking her to marry him. She's mortified and I'm cackling with glee! Hehehehehehe! What a cheesy, romantic proposal. The door opens and he's standing on the bus with flowers, smiling like a lovesick fool. She stares like a dumbstruck idiot.
The crowd around them applauds as he approaches her and asks her to marry him. She's so surprised that at first she says nothing. At his embarrassed urging and the encouragements from the crowd, she accepts the roses.
They head to a cafe where she counts and admires her flowers. She still hasn't given him a verbal answer. They spar back and forth and act all cute and stuff. She's worried about telling the families, but that doesn't overpower her happiness.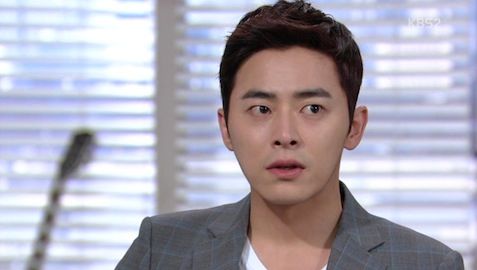 Joon-ho broods over Soon-shin and her grim decision to go to Mi-ryeong - she's sacrificing her happiness with her family for her family's happiness. Then Mi-ryeong comes in demanding a list of films and dramas she and Soon-shin can do together. Joon-ho is incredulous - he thought Mi-ryeong ended the contract. But no, the goddess of narcissism has decided to give him another chance. How benevolent of you...
Mi-ryeong invites Soon-shin to go shopping. She's all bubbly while Soon-shin looks utterly depressed. Mi-ryeong tells her not to dress as she used to because Soon-shin needs to think about Mi-ryeong's dignity...Can I smack her?
At lunch, Soon-shin isn't hungry and doesn't respond to anything Mi-ryeong says. When Mi-ryeong proposes starting acting lessons again and mentions how happy they were at that time, Soon-shin smiles.
They were happy because Mi-ryeong wasn't judging her at all or faking being a mom or anything. She wasn't being arrogant or a diva. If she dropped all of that crap and the pressuring, perhaps she could actually form a relationship with her wounded daughter.
Anyway, Mi-ryeong says that she's planned an interview where Soon-shin can take care of the rumors about her mother. At that, Soon-shin actually smiles at Mi-ryeong who is quietly thrilled that Soon-shin smiled at her.
That's the first time I actually believe Mi-ryeong cares about Soon-shin.
Mi-ryeong wants to spend more time together, but Soon-shin leaves. However, Hwang catches her before she gets far and shoves some shopping backs into Soon-shin's arms. They are Mi-ryeong's gifts from her heart. He hasn't seen Mi-ryeong act like this towards anyone before.
So maybe Mi-ryeong is earnest, but she shows it badly. Therefore she fails.
Soon-shin can't go home with the expensive clothing and asks Chan-mi to keep them for her. Chan-mi drools over the expensive new clothes and Soon-shin gives her one outfit. She thinks Soon-shin is lucky to have a rich and famous mother that will change her life completely. Chan-mi = bad friend.