by: Raine

---
Some of this episode was really beautiful. Some of it seemed belabored. They need to get some new, strong playing cards on the table. I'm sick of them spinning their wheels on Mi-ryeong.
AGB Nielsen Nationwide had this episode coming in at 26.9%.
"Lee Soon-sin is the Best" is directed Yoon Seong-sik by and written by Jeong Yoo-kyeong and features IU, Jo Jung-suk, Go Doo-shim and Lee Mi-sook.
Episode 34 recap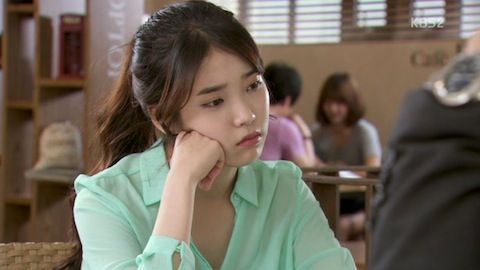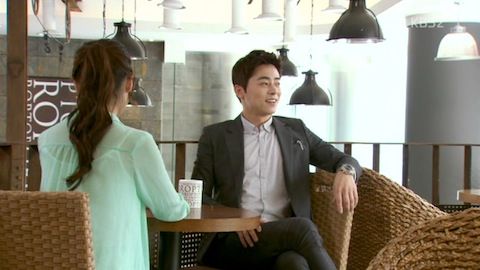 Soon-shin comes out from her audition and blindly walks by an anxiously waiting Joon-ho. She didn't pass the audition and her desolation makes Joon-ho smile - she's just THAT cute. :D
He comforts her over coffee; not everyone makes it on their first go round. Soon-shin complains that she was too nervous to show her skills. Joon-ho teases her and makes her smile. Then he assures her that it's just the beginning; he went through the same thing and was going to show his father how great he was. Stage fright got the better of him - he never got to sing one song. AW! He wants her to clear her mind of the failure and come to rehearsal the next day, ready to try again.
Mi-ryeong broods over Soon-shin's harsh rejection, "I am not your daughter". Hwang and Soon-shin come home. Mi-ryeong is happy to see her; Soon-shin looks like a zombie. She doesn't answer Mi-ryeong's inquiry about the audition and she refuses Mi-ryeong's elaborate breakfast spread the next morning - she only eats rice.
She leaves Mi-ryeong frustrated. Hwang laughs as Mi-ryeong frets over what to do about Soon-shin. Even though Mi-ryeong doesn't eat breakfast, she wants to start having rice for breakfast.
I honestly think she's trying now, but I am so glad she's getting her ass handed to her by Soon-shin. The woman needs to get a grip and see how selfish she's been.
Soon-shin buys breakfast from an outdoor stand and gets caught by Yoo-shin. She's angry that Soon-shin doesn't call much. Oh, so you do care, huh? You need to show it a little better...
Soon-shin makes the excuse that she's been really busy preparing for auditions. Yoo-shin wonders if Mi-ryeong is nice to her and Soon-shin has a tough time lying, so she changes the subject to Jung-ae and Granny. They don't even have time to be mad at Soon-shin because of Yoo-shin's marriage troubles. She is the new trouble maker.
I wonder if Yoo-shin understands Soon-shin just a bit more now..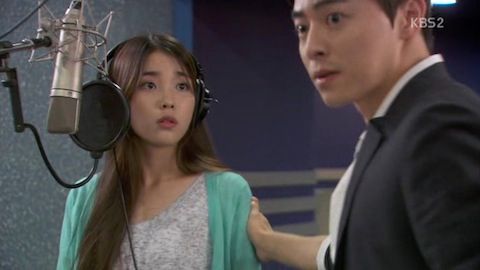 In-sung hands Joon-ho a list of dramas and one drama, potentially headlined by Yeon-ah, has a would-be singer role. Joon-ho remembers Soon-shin singing and decides it's perfect for her. He drags her to the recording studio, sticks headphones over her ears and puts her in front of a mic. Then he has her sing and asks the engineer what he thinks of her voice and talent. He gives her a thumbs up. With lessons, she could totally take on a singing role.
YES! IU IS SINGING! Why did it take so many episodes for you to get her to show her vocal prowess? HUH? Foolish production team. Follish. And then we have Jo Jung-seok's character who needs to get back on stage. Oh, and don't forget actor Lee Ji-hoon who is a famous SINGER. Yeah, so much potential here. Tap it, yo.
Soon-shin is absolutely giddy as she reads the would-be actress part and won't let Joon-ho talk until she is through. It's frickin' hysterical. When she's through, he tells her what she'll need to do to prepare and then ask if there's any instrument she can play.
OMG OMG OMG! I KNOW! GUITAR! IU rocks the guitar. You guys have seen her acoustic covers, right?
[youtube=http://youtu.be/T7askTJqioo]
Yeah, I'm totally IU fangirling right now. I just went on a 20 minute IU youtube fest. Back to the drama...
So anyway, Soon-shin says she can play the guitar a little because Chan-woo taught her. Joon-ho warns her that this director doesn't care about connections, only about performance. She's happy to hear it and so cute in her enthusiasm - I know Joon-ho just feel fo her more.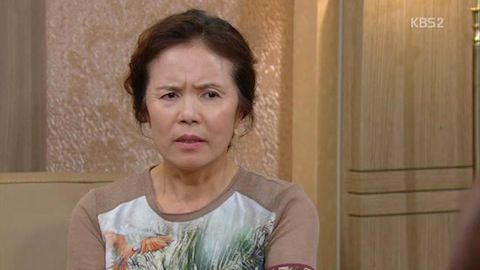 Yoo-shin picks out presents for Gil-ja's family to gain her favor. Then she heads over to Gil-ja's horror and my utter delight. She calls Gil-ja "eommeoni" instead of "ahjumma" totally flipping her out. She hands out the presents, pleasing Bok-man and Chan-mi. Gil-ja storms into the kitchen and Chan-mi follows her to convince her to let the marriage happen. Chan-woo will never change his mind so she should stop being a mean mother-in-law from the get go. Hehe.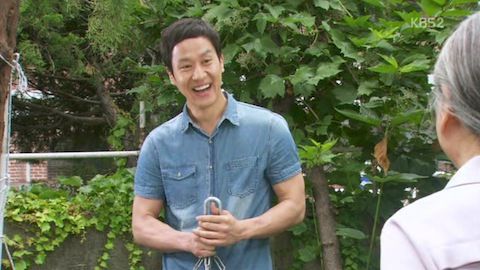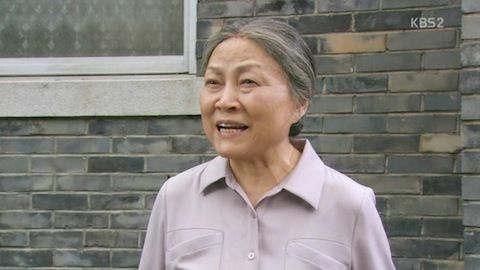 Sexy baker Jin-wook gets out his old boxing gloves and remembers his confession to Hye-shin and her kind acceptance of his past. Then he gets permission from Granny to hang a punching bag outside. He says she can use it when she's frustrated and she agrees with a smile.
I like this pair, too. He'd be a good son-in-law, caring for the whole family, not just his wife.
Hye-shin and Woo-joo come out, but Hye-shin is very awkward with him instead of warm. On her way back from Woo-joo's school, she barely acknowledges him. He thinks it's because of his past. He doesn't realize she heard his confession to Jung-bae the day before and she is overwhelmed by it. She did just get out of a horrible relationship.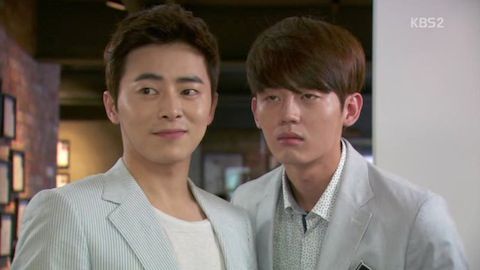 In-sung is reading Joon-ho his schedule when he gets distracted by Soon-shin practicing. He smiles unconsciously. In-sung warns him to get a hold of himself because people are watching him. It's so obvious the man is in love. Hehe.