by: Raine

---
As the cute between the couples gets even cuter, the ridiculousness of everything else gets even more ridiculous.
AGB Nielsen Nationwide had this episode coming in at 30.1%.
"Lee Soon-sin is the Best" is directed Yoon Seong-sik by and written by Jeong Yoo-kyeong and features IU, Jo Jung-suk, Go Doo-shim and Lee Mi-sook.
Episode 40 recap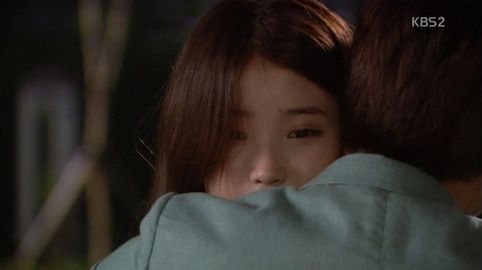 Joon-ho finally kisses Soon-shin and it beautiful, heartfelt and sweet. Afterwards, he hugs her tightly to him and they revel in their newfound relationship. The duet between 2AM'sLee Changmin and GLAM's Dahee, I Only See One Person, plays and really sets the mood with it's cheesy 90s feel. Don't get me wrong, I love me some cheesy. It's the perfect song for the moment. Especially since Lee Changmin powerful tenor pwns when mixed Dahee's husky timbre.
Back to the lamest "couple" of the show: Mi-ryeong and Dong-hyuk, who talk about their "relationship". Mi-ryeong tells him that Soo-jung confronted her and asked her to cancel the cosmetic contract. Dong-hyuk doesn't want to cancel the contract and explains that it's his fault his wife is so sensitive. Well, as long as you realize it. Now stop meeting with Mi-ryeong and flirting with her...
Mi-ryeong doesn't want to stop being friends because she is so comfortable with him. But...she's too selfish to realize that she's emotionally cheating on her friend with her friend's husband. And so is Dong-hyuk who readily agrees to continue being friends. *sigh*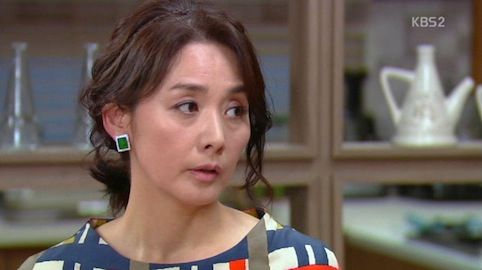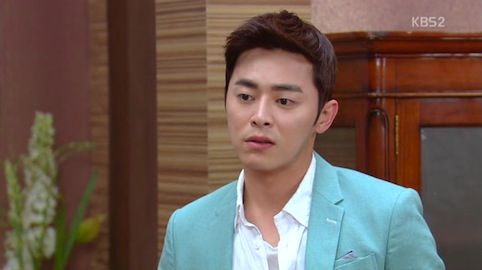 Soo-jung mopes at home over her failing marriage. She takes out her frustrations on Yi-jung. For once, I feel bad for Yi-jung...that is, until she snaps at Joon-ho who merely asks what is going on. Joon-ho tells his mom that he doesn't think Dong-hyuk has a girlfriend; he asked. However, Soo-jung doesn't care. Dong-hyuk still hasn't come home. Joon-ho defends his father, which incites his mother. I honestly think Joon-ho should just emotionally support his mother and stay out of it.
I wish the writer would take this opportunity to explore how a strained marriage and potential divorce affects adult children. It's very difficult for them despite the fact that they're grown.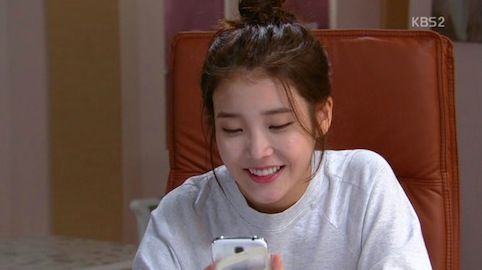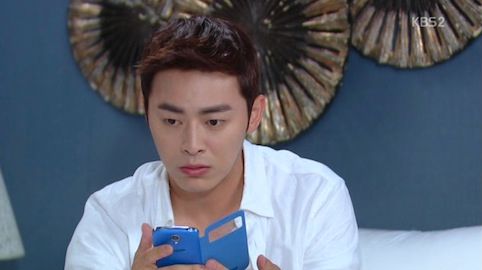 Joon-ho goes into his room and broods a few seconds over his parents...and then he remembers his new woman! Heeee! He pulls out his phone and texts Soon-shin. "Did you get home safely? I miss you already. Good night". How. Cute. Soon-shin grins like a fool and carefully plans out her message...again and again. Finally she settles on, "Neh/네/Okay". He is really disappointed by it. She is, too, so she starts to compose another until she is interrupted by Jung-ae's call. She's inviting Soon-shin to Yoo-shin's wedding.
It bothers me how much she is left out of the family's affairs...grrr.
Anyway, they have a sweet little conversation that is full of longing that Mi-ryeong overhears. She lectures Soon-shin on not slacking off and that the fact she is one of a boatload of actors in the world. Mi-ryeong asks her to shoot a commercial together, one for Dong-hyuk's cosmetics brand that is to be promoted as make-up for both mothers and daughters. It will really get her name out there as Mi-ryeong's daughter. Soon-shin, predictably, turns her down. Mi-ryeong asks if it's because she didn't earn it with her own skills or if she doesn't want people to see them as mother and daughter. Soon-shin says yes to both questions, hurting Mi-ryeong. She snaps and tells Soon-shin to do whatever she wants.
Honestly, I don't mind Mi-ryeong getting emotionally kicked. She needs to hear and UNDERSTAND Soon-shin's feelings.
Dong-hyuk smiles while thinking of Mi-ryeong. Blah. There's even some harp music in the background, making Mi-ryeong seems like an angel. Heh. Chan-woo comes in with a wedding invitation: the wedding is this weekend. He asks Dong-hyuk to officiate the wedding and he agrees.
Sistar 19's "Gone Not Around Any Longer" is playing on the radio as In-sung drives Soon-shin and Chan-mi. In-sung is singing along badly.This scene is like one last episode, but this time, instead of being depressed over Joon-ho, Soon-shin can barely stop smiling about him. Chan-mi babbles about how happy Chan-woo is about his wedding prompting In-sung to ask her if she has a boyfriend. (Soon-shin smiles at the mention of the word "boyfriend".) They tiff a bit and are generally adorable.
Soon-shin's drama is filming at Young-hoon's restaurant. It's a scene between Yeon-ah and Soon-shin and it's SO NICE to see them get along for two seconds, even if it's fake. Soon-shin and Yeon-ah playfully fight over a pan and Soon-shin accidentally drops it. Joon-ho adorably encourages her and Yeon-ah gets really jealous. When they do the scene again, Yeon-ah releases the pan on purpose so that Soon-shin falls; she cuts herself. Young-hoon notices that the jealous wenchb did it on purpose.